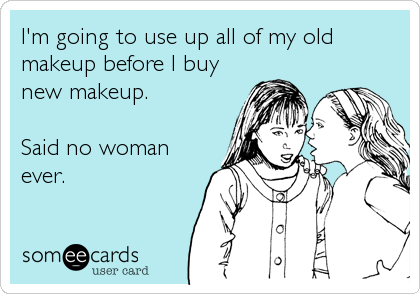 I thought I'd do something fun for today's post and share some beauty confessions! I'm far from perfect and I love having a good nose at what makeup mistakes or confessions other beauty lovers have! I hope you have a little giggle about my confessions, I'm afraid they're not too interesting!
There are words I don't understand. I can't tell you what the pigmentation of something is as I have no clue what it means! I can't tell you about undertones and I can't describe items in fancy words.
I'm rubbish at applying eye shadow. I love my Naked 3 palette, but unfortunately I only ever reach to it on a very special occasion, meaning I probably should have saved my money!
I've learnt that you don't have to spend more to get good quality makeup. I am willing to splash out on my Estee Lauder foundation but when it comes to every day basics such as eyeliner and mascara, I'm a high street girl all the way.
When I don't wear makeup, people in work tell me how tired and ill I look. I cant help it, it's my skin!
(Yes, I do occasionally venture out without makeup!)
I have so many lovely nail polishes, but there are so many more that I need! To make this even worse, I can't wear nail polish to work, so working full time has resulted in my poor nails being neglected.
I actually enjoy
plucking my eyebrows!
When I was around 12/13, I thought the idea of makeup and fashion was so horrendously boring! I used to live in black clothes and wear my hair in a scraped back low ponytail (Eek!).
If I'm ridiculously tired, I've been known to sleep in my makeup. We all do it at some point, right?!
I always want to buy new beauty products. It doesn't matter if I'd never even use them, if the packaging is pretty, I want them all and of course, it's for blogging purposes.
Sometimes I wonder what it would be like to have a career in beauty. I'd love to do some work experience on a beauty counter one day.
I sometimes forget to apply primer or moisturiser before foundation - oops.
I really should go through my makeup bag and throw out old products. I'm ashamed to say I own some pretty old stuff!!
What are your beauty confessions? x